With sunny days and cool nights, Brisbane is australia's only subtropical capital. Queensland's state capital is also Australia's third largest city – behind Sydney and Melbourne – with 2.2 million inhabitants, and the country's main economic, administrative, cultural and urban hub. It is situated 945 kilometres northeast of the nation's capital, Canberra, and 733 kilometres north of Sydney, the country's main city.
Currently, the city is one of Australia's main tourist centres, gateway to the tourism industry in the state of Queensland and across the east and northeast of the country. In 2010, it was voted the 36th most "livable" city in the world, taking into account levels of public safety, urban cleanliness, government transparency, social welfare and conservation of public heritage by the Mercer 2010 Quality of Living Survey.
And despite the airs of modernity, Brisbane is one of Australia's oldest cities! Although it was founded in 1825, the area that is now occupied by the city was already largely inhabited by Aborigines many centuries before the arrival of the first Europeans. Today, these Aborigines of the Turrbal and Jagera tribes represent about 2% of the population.
Brisbane is bathed by the Pacific Ocean and it is on its territory that flows from the Brisbane River, which gives the city its name. The Brisbane River cuts through the city and on its banks you can find several options of social and cultural entertainment. A boat ride along the river is also a nice way to get to know the beauties of the city.
And if you're one of those who enjoy outdoor tours, Brisbane can also be a good option! In addition, the city is known as "City of Sunny Days", seen the rarity that the rain is in the city. You've seen it, right? Brisbane also offers an infrastructure for those who like to play outdoor sports: you can run along the boardwalk, play football, cricket, golf or rugby on public courses, cycle along the banks of the Brisbane River and even swim on the artificial beach of South Bank Park.
In addition, the city boasts a strategic location, just 78 km from the Gold Coast and 105 km from sunshine coast. Brisbane is simply perfect for those who like the beach, because unlike other cities in the country, on summer days the sea water is quite pleasant, coming to be "warm" on very hot days.
As one of Australia's fastest growing metropolises, the city also offers modern and interesting places to tourists who disembark there. The centre of Brisbane is a charm apart: full of cafes, restaurants of the most diverse nationalities, fashion shops, entertainment, amazing gardens and parks that harmoniously design the city. It is also common to find outdoor events, street artists, musicians and all kinds of art, which makes the atmosphere even more pleasant and unforgettable.
Is it or is it not an incredible destination?
STUDY: In recent years, Brisbane has received more and more foreign students. In addition to high-quality education, students are attracted by the multicultural mix of Brisbane's population, its strength and economic accessibility, lifestyle, fantastic climate, efficient transport system, safe environment and its friendly residents. Another great reason that attracts so many exchange students every year is the possibility of working while studying in Australian territory.
Our schools in Brisbane are conveniently close to retail and business centres, giving students the opportunity to work close to their study sites. In addition to the possibility of meeting new people and acquiring new skills.
In addition, the exchange student in Brisbane has the opportunity to study in a relaxed and modern city that unites art, music and surfing.
The cost of living in Brisbane
The cost of living in Brisbane is low when compared to that of the country's two largest cities – Sydney and Melbourne. The average monthly cost in Brisbane is A$1,153.34 without rent, for single and childless staff.
To help you, we have prepared a list of top daily expenses.
Rent per month
Apartment (1 bedroom) in Centro A$ 1,304.35 to A$ 2,000.00
Apartment (1 bedroom) outside the center A$ 1,000.00 to A$ 1,500.00
Apartment (3 bedrooms) in Centro A$ 2.400,00 to A$ 3.500,00
Apartment (3 bedrooms) outside the Center A$ 1,700.00 to A$ 2,400.00
Utilities
Basic (electricity, water, garbage) apartment from 85m² A$ 90,00 to A$ 350.00
Internet A$ 60.00 to A$ 90.00
Transport
Unit pass (local transportation) A$ 3.20 to A$ 5.00
Monthly pass A$ 108.70 to A$ 217.39
Taxi – call (normal fare) A$ 2.90 to A$ 6,00
Taxi – 1km (normal fare) A$ 2.17 to A$ 3,00
Market
Milk (liter) A$1.00 to A$ 2.00
White Bread (500g) A$ 1.00 to A$ 3.40
Rice (kg) A$ 1.00 to A$ 3.00
Eggs (dozen) A$ 3.00 to A$ 5.00
Cheese (kg) A$ 5.00 to A$ 10.00
Chicken breast (kg) A$ 8.00 to A$ 12.00
Beef A$ 11.00 to A$ 21.50
Apple (kg) A$ 3.00 to A$ 5.00
Banana (kg) A$ 2.00 to A$ 3.50
Water (1.5 liter bottle) A$ 0.70 to A$ 3.00
Restaurant
Basic meal A$ 14.00 to A$ 25.00
Fastfood (combo) A$ 9.00 to A$ 13.00
Cappuccino A$ 4.00 to A$ 5.00
Refrigerant A$ 2.00 to A$ 4.00
Water A$ 2.00 to A$ 3.00
Source: https://www.numbeo.com/cost-of-living/in/Brisbane
TRANSPORT
The city of Brisbane has one of the best public transport networks in the world, with an extensive transport network within the city, as well as connections to regional centres. Public transport runs via various bus, train and ferry lines. The car and bicycle are also widely used.
You can find information about bus, train and tram routes and trams at the Trans-Info Service at the www.translink.com.au.
The boats circulate at intervals of, on average, 20 or 30 minutes, between 5:00 am and 10:30 pm, on round trips.
Brisbane has a vast amount of bus lines,which allows you to get around the city in an efficient, economical and comfortable way. The city has the "Loop bus " which is a buslinethat runs towards the Central Business Districtregion, including points in the most emblematic places of the city: Central Station, Queen Street Mall, City Botanic Gardens, Riverside Centre, QUT and King George Square. A good news for those who like to enjoy the nights, is that there are lines on Friday and Saturday nights, which circulate through the main streets of the city.
Brisbane's Citytrainnetwork has seven train lines that allow you to go to different parts of the city or even to travel elsewhere. It's a fast and relatively comfortable medium. Tickets are purchased at the vending machines of the train stations.
For those who want to use the taxi service,Brisbane has twocompanies: the Yellow Cabs and the Black & White Cabs. Both are advisable as they offer the same service and fare that is regulated by local authorities. In a larger group of people, there is also the possibility of using a Megataxi,with space for up to10 passengers.
Below, you can check the average transport cost values in Brisbane:
Unit pass (local transportation) A$ 3.20 to A$ 5.00
Monthly pass A$ 108.70 to A$ 217.39
Taxi – call (normal fare) A$ 2.90 to A$ 6,00
Taxi – 1km (normal fare) A$ 2.17 to A$ 3,00
TOURISM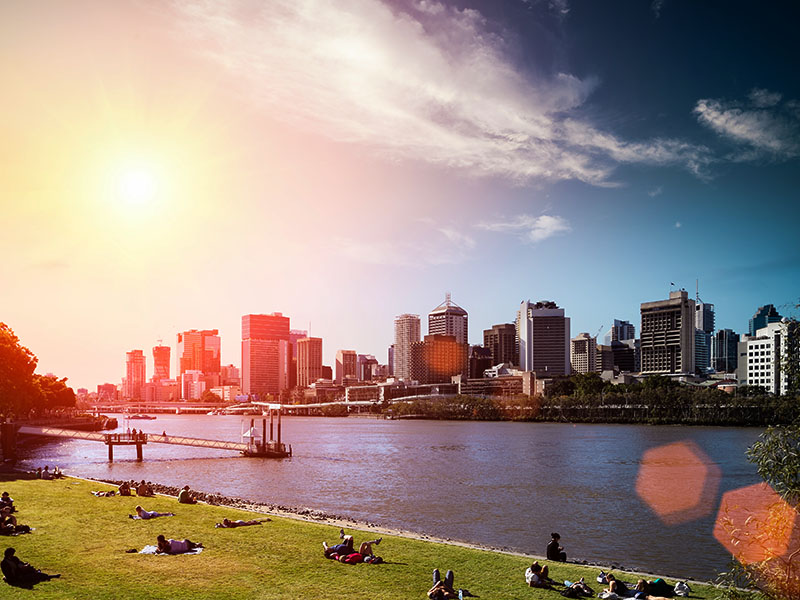 Brisbane is a modern, vibrant and sunny city with subtropical climate and unparalleled natural beauty. Better yet, with friendly locals and always willing to present this beautiful city on the banks of the river for you.
The City of Sunny Days will certainly awaken your love for it, because what is not lacking are tourist attractions.
One of Brisbane's most famous sights is the Lone Pine Koala Ecological Sanctuary. It is a large nature reserve that houses, in addition to koalas, other several animals characteristic of the region. You can have contact with kangaroos, birds, crocodiles, Tasmanian devils and various species of reptiles and bats. It is 11km from Brisbane and is an unforgettable option for those who like to be very close to animals, because it is possible to interact, feed and touch some of them. Despite housing several species of animals, the main attraction is the sleepy and pleasant koalas. In fact, as a souvenir, it is possible to take home a picture holding one of them.
Another must-see in Brisbane is the city's Botanic Gardens. With a gigantic area of more than half a million square meters, you'll find exotic plants, a variety of flora specimens and attractions such as the Japanese Garden, the alagoa and the bamboo grove. Originally created as a plantation field to feed the penitentiary colony that settled in the region in 1825, today it has become a beautiful park that deserves a visit. In addition, with the considerable growth of the city, the botanical garden space is a space of reunion with nature for those who live in the city.
One of Brisbane's most famous neighbourhoods is the South Bank. There are two of the city's most sought-after museums that you need to know: GOMA – Gallery of Modern Art andQueensland Art Gallery both with thousands of canvases, sculptures and other artistic objects, both from native traditions and modern art.
South Bank is a true cultural centre of Brisbane, with beaches, museums, nightlife and parks very good for picnics. You can also climb the Ferris wheel – Wheel of Brisbane – and get a panoramic view of the city.
Another option, if you prefer a quieter and less radical tour, is to enjoy a cruise on the Brisbane River. It is worth navigating along this landmark of the city in one of several tours available and observe all the beauty of the city from a totally different angle.
For those who love beach, options abound! Brisbane has several options, with Gold Coast to the south and Sunshine Coast to the north. The trendy beaches of Noosa Headson the Sunshine Coastand Surfer's Paradiseon the Gold Coast are greatattractions for tourists. Mooloolaba beach is a family favourite, known for having the calmest sea without very large waves – which is not very common on the coast of Australia.
And for those who love outdoor walks, a good option is to visit North Stradbroke Island, affectionately known as "Straddie". To get there, just take a ferry from Brisbane to cross Moreton Bay. Packages can be customized to include ecotourism, 4×4 vehicle tours, canoeing, fishing and sandboarding. There it is possible to observe dolphins, photograph the fauna and flora or walk for miles of untouched beaches.
ELECTRICITY
Australia's electricity grid is made at 230/240 volts. 50 hertz.
The plug is different from that used in other countries. There they use the plug type i.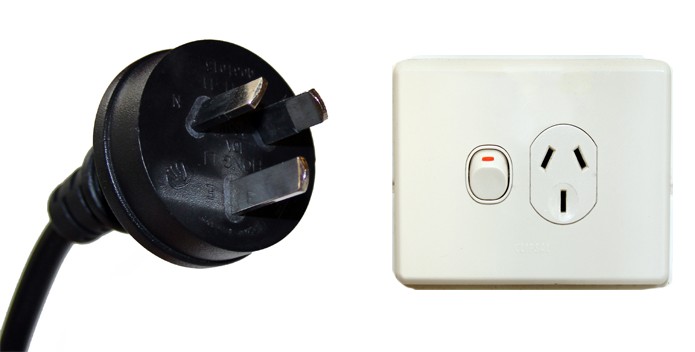 SHOPPING
Even if you don't consider yourself a consumerist person, you'll need to shop during your trip. That's a fact. Sometimes searching for information before buying is an excellent alternative for those who want to save money.
Brisbane has several outlets,which offer clothing items at very affordableprices. If you're not the type of person who cares a lot about fashion trends, a good tip is to buy clothing items outside of the current season when you can find items for more than half the price.
Another option is to look for popular stores such as Target, Big M and Cotton On, for example, where you can find basic t-shirts from A$ 5,00, sweatpants to A$ 10.00 and even jeans for A$ 30.00 . Some popular shops also offer household items such as bed and bath, clothing and footwear.
Prices in Brisbane supermarkets are also attractive, especially food items. The average value of a liter of milk is A$ 1.34, while the white bread, 500g, costs A$ 2.30 and the dozen eggs, approximately A$ 3.92. A good tip is to leave to do your weekly purchases at the end of the week, when usually the establishments do their promotions.
NIGHTLIFE
With a climate as good and an atmosphere as relaxed as Brisbane's, you won't even want to sleep. The Fortitude Valley district,close to the central business district, is one of the hottest in the city and where nightlife takes place. Friday night is usually the most anticipated by bohemians. Many are in the area near Brunswick Street, where dozens of pubs and nightclubs are concentrated.
Another attraction for those looking for quieter options is the programming of Opera Queensland,which is the stage for renowned opera performances, musicals and concerts.
Sports lovers can watch another kind of spectacle: the rugby, cricket and football matches taking place at the Brisbane Cricket Ground.
An important tip is to pay attention to local rules that do not allow any customer to stay in clubs and pubs after 3am. It is also necessary to prove the minimum age of 18 years for alcohol consumption.