ABOUT THE CITY
The Surf region, with 300 days of sunshine a year, of paradisiacal beaches, with the crystalclear waters of the coast. But you're wrong if you think only surfing lives in the Gold Coast. Famous for having one of australia's best nights, there's no shortage of options when it comesto happy hour.
It also has the largest number of theme parks in the country, among them thefamous Sea World,Warner Bros Movie WorldandDreamworld. And if you're studying there in May, you can still enjoy the invasion of the blues through the streets of the city, in the month ofBlues on Broadbeach.
The region offers both culture, relaxation and action to your liking. Great destination for those who want to enjoy the best of life.
General information:
Gold Coast is located in south-east Queensland and has a population of about 550,000. The city's climate is slightly sub tropical with temperature averages ranging from 25 to 32 degrees.
Gold Coast boasts 70 kilometres of coastline, with 35 beaches that are among the most beautiful in the world. Among the main and best known surfers are Main Beach, Surfers Paradise, Broadbeach, Burleigh Heds, Palm Beach, Kirra, Snapper Rocks, South Stradbroke Island, and many others.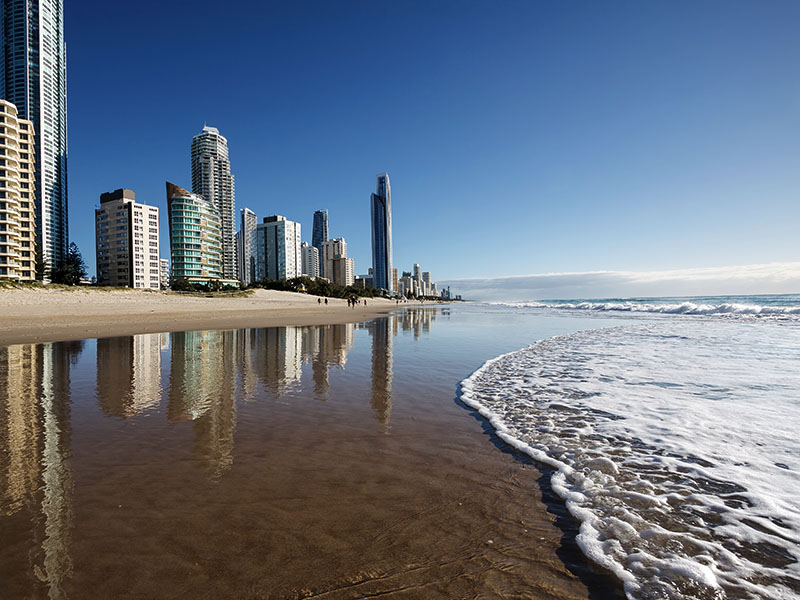 COST OF LIVING
The cost of monthly living on the Gold Coast is A$1,054.11 without rent, for single and childless staff.
Below we have made a list of day-to-day expenses that are interesting to know the value.
RENT
1 bedroom apartment in the city center: A$1,300.00 to A$1,900.00
1 bedroom apartment outside the city center: A$1,000.00 to A$1,500.00
3 bedroom apartment in the city center: A$2,000.00 to A$2,800.00
3 bedroom apartment outside the city center: A$1,480.00 to A$2,100.00
UTILITIES
Basic (electricity, health, water, garbage) for an apartment of 85m²: A$110.00 to A$350.00
Internet: A$60.00 to A$100.00
TRANSPORT
One-way Ticket (Local Transportation): A$3.00 to A$5.00
Monthly ticket (Regular price): A$60.00 to A$200.00
Taxi call (Normal fare): A$2.90 to A$3.50
Taxi 1Km (Normal Fare):A$2.17 to NZ$5.00
MARKET
Regular milk (1 liter): A$1.00 to A$2.00
Bread Package (500g): A$1.00 to A$3.00
White rice (1kg): A$2 to A$4.00
Eggs (duzia): A$2.80 to A$5.50
Chicken Breast (1Kg): A$9.00 to A$12.00
Beef (1kg): A$10.00 A$23.00
RESTAURANTS
Basic meal: A$12.00 to A$20.00
Fastfood combo: A$8.00 to A$11.95
Water: A$1.00 to A$3.50
Refrigerant: A$2.50 to A$3.50
Source: https://www.numbeo.com/cost-of-living/in/Gold-Coast